When you buy gold jewelry, how much are you paying for the gold in it and how much are you paying for everything else it takes to make and bring it to where you can buy it?
For the sake of simplicity, we're going to call that everything else for the jewelry you're buying the "markup". That makes sense in the event that you ever try to sell the jewelry, where you'll quickly find that the amount of gold in it is what gives it most of the value you can recover from it.
We selected the Nuragold 14k Yellow Gold 3.5mm Solid Miami Cuban Link Chain Pendant Necklace that can be purchased at Amazon to use for our example since it is made from solid 14-karat gold. That means it has much more gold in it than jewelry that has been gold-plated, making its gold content representing a significant portion of its price.
Meanwhile, because pure, or 24-karat gold is a notoriously soft metal, solid gold is often alloyed with alloyed with other, less costly metals such as copper, silver, zinc, and/or nickel to make it stronger. In the case of 14K gold, 58.3% of the content is pure gold.
Meanwhile, if you want to know how much gold is worth today, here is its latest spot price from Kitco, along with a few other precious metals, where the price is given in U.S. dollars per ounce!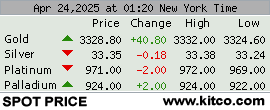 From here, we just need to know the weight of the metal in the jewelry to estimate how much of its value is due to its gold content. For the 20-inch long version of our example necklace, that's 16.6 grams, which on the day we sampled the data, costs $1,003.99. We built the tool below to handle the various weight unit conversions and to calculate the value of gold in it and the resulting markup. If you're reading this article on a site that republishes our RSS news feed, please click through to our site to access a working version of the tool.
For this default example, we find out the jewelry's gold content represents 55.4% of its purchase price, or $556.34. The markup makes up the remaining 44.6%, or $447.64.
If you find yourself in the situation where you're a seller of an article of gold jewelry, you may find the best price you can obtain from a precious metals dealer will be less than the value of the gold content. That's because they have their own markups, which in addition to the transaction costs of doing business, may also include the expense of melting down the jewelry to extract the gold content from it. But that's the subject for a different tool on another day!